Vision
To be the leading provider of progressive outdoor-based non-formal education committed to develop morally straight, disciplined, concerned, self-reliant citizens in the best tradition of World Scouting.
Mission
1. T o inculcate in our Scouts and Scouters love of God, country and fellowmen.
2. To prepare the youth for responsible leadership.
3. To contribute to nation-building according to the ideals, principles and program of Scouting.
WHAT IS A SENIOR SCOUT?
Senior Scout is:
A dynamic program for teenagers done largely in the outdoors in small groups called CREWS and which supplements the learning experiences in the Home, School, and Church.
Self-education aimed at the acquisition of knowledge and the development of right values, skills and habits through outdoors, social service, and vocational activities.
Development of good personal public relation.
Undertaking challenging activities and man-sized responsibilities.
Working together with other teenagers under the guidance of an adult, called the OUTFIT ADVISORS, to plan and carry out many exciting activities.
Supported by both government and non-government institutions and agencies that are keenly interested in helping the youths to develop their personal potential.
Developing leadership skills by holding different leadership positions in the outfit.
A challenging high adventure in for and fellowship towards responsible citizenship.




BSP: A Brief History
Scouting in the Philippines is among the oldest in the world, with an all-Filipino Boy Scout troop organized in Mindanao as early as 1914. This is early if one recognizes that Scouting started in England, with Lord Baden-Powell behind it, in 1908 and was introduced in the United States only in 1910.
The first Boy Scout troop in the Philippines was composed entirely of Filipino Muslims boys. The troop was organized by Lt. Sherman L. Kiser of the Philippine Scouts, U.S. Army, at an army barracks in Zamboanga. It was named the Lorillard Spencer Troop, in honor of the son of Mrs. Caroline Spencer, whose idea and support made the formation of the troop possible. On January 1923, the Boy Scouts of America, Philippine Council was formally organized through the initiative of the Manila Rotary Club. The program of the Boy Scouts of America was utilized in the Philippines.
Realizing that Scouting had come to stay in the Philippines, Assemblyman Tomas Confesor of Iloilo sponsored the bill in the National Assembly incorporating the Boy Scouts of the Philippines, with Col. J.E.H. Stevenot, Judge Manuel Camus, Gen Vicente Lim, Arsenio N. Luz, Carlos P. Romulo, Jorge B. Vargas and Gabriel Daza as incorporators and Charter members. This was signed into Law as Commonwealth Act No. 111 on October 31, 1936 by President Manuel L. Quezon.
Operations of the Boy Scouts of the Philippines was temporarily disrupted during the Japanese occupation (1942-1945) and resumed on February 24, 1945 when the National Council of the Boy Scouts of the Philippines was established.
On October 1, 1946, the Boy Scouts of the Philippines was recognized as a member of the World Scout Movement by the World Scout Conference as an independent national scout association.
In 1959, in recognition of its leadership in Scouting in Asia, the 10th World Jamboree was held in Mt. Makiling, Laguna. It was the first time a World Jamboree was held outside of Europe. The date also marked establishment of the National Scout Training Center in Makiling.
In 1961, the BSP National Executive Board approved and adopted a Revitalized Scouting Program. This officially launched on June 19, 1961, the first successful attempt at Filipinization of the Scout Program.
In 1972, the Boy Scout of the Philippines membership surpassed the million mark, ranking it as the largest Scout Organization in Asia and largest in the World.
At present the Boy Scouts of the Philippines with its membership of 2.5 million Scouts ranks second in the Asia-Pacific Region, and is thord to the Boy Scouts of America in World membership is 28 million with 75% of the membership coming from the Asia-Pacific Region.
To effect changes in its organization charter, Presidential Decree 460 was issued by them President Ferdinand E. Marcos on May 17, 1974, amending certain provisions of Commonwealth Act No. 111 and mandating a restructuring of the Boy Scout of the Philippines.
As part of the continuing effort to make Scouting relevant to the needs of the Filipino youth and nation, the BSP National executive Board approved a Scheme for Program Formation and a Revised Commissioner Setup on May 28, 1986.
The program of the Boy Scouts of the Philippines with its four sections would follow the New Directions Program (KAB Scouting) for 1975.
Revitalized Boy Scouting Program (Young Scout) for 1961, and the Service Scouting Section (Senior Scout) of 1975. This became effective until December, 1991, following the finalization of the New Horizons Program by mid-year of 1991. The Rover Scouting Program has also been readapted with certain modifications following the revitalized Rover Scouting program on April 23, 1962. A fifth Scout Section, KID Scouting was formally approved by the National Executive Board on February 26, 1990.
The rest is more colorful history.
Here we might include information about our founding members, when we were incorporated, and some of our club's most memorable moments.


Makati City Council
BSP-Fort Bonifacio High School
(Senior Scouting)
Organizational Chart
Sctr. Samuel C. Bulan
Institutional Head
Sctr. Jefferson L. Aragon
Institutional Coordinator
Sctr. Benedick B. Baniqued
Institutional Committee Chairman
Sctr. Erwin A. Cabasan
Outfit Advisor
Sctr. Romualdo Gamilla
Asst. Outfit Advisor, Administration
Sctr. John Paul F. Arevalo
Asst. Outfit Advisor, Program & Activities
Fort Bonifacio High School
List of Senior Scouts
1st Year
2nd Year
1
Alfonso, Armando L.
1
Baldonado, Francisco
2
Amis, Ron Carlo D.
2
Calundre, Paul John T.
3
Baesa, Jose A.
3
Manabat, Jomar B.
4
Bautista, Almar M.
4
Tataro, Christopher B.
5
Bea, Jose Marie
5
Tumana, Mark Lester S.
6
Buisan, Shony Daryl
6
Volante, Reynaldo P.
7
Cagata, Ivan O.
8
Calasin, Michael M.
3rd Year
9
Chiefe, Harvey Rhoel L.
10
Cruz, Ron Erwin B.
11
Dado, Mark Jhester O.
4th Year
12
Dantis, Russel E.
1
Calingacion, Jeffly
13
David, Jan Irvil F.
2
Tingson, Victor P.
14
De Sesto, Philip L.
3
Torrecampo, Amar J.
15
Ilagan, Dawn-One H.
16
Limpin Antonio Jr. B.
17
Limpin, Jose Rafael O.
18
Maglaya, Paul Gilbert V.
19
Millet, Jonathan A.
20
Moncada, Gerbill Troy B.
21
Operio, Alvin D.
22
Panol, Stephen P.
23
Pelagio, Christian
24
Pergis, Alex A.
25
Querido, Ryan John P.
26
Ramiso, Jomar B.
27
Rebancos, Josel T.
28
Rejano, John Christian J.
29
Sagutin, Mark Jonas B.
30
Salazar, Kevin M.
31
Santiago, Jayson
32
Sarmiento, John Lester
33
Taberdo, Elpi-Norli D.
34
Tagapulot, Edmund B.
35
Tolentino, Jansen G.
36
Tuboro, Danvy N.
37
Veloria, Mariano Gabriel R.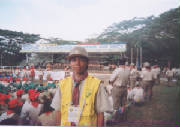 Hon. Mayor Jejomar C. Binay, of Makati City is our BSP National President